Hydrotherapy or aquatherapy or aquatic therapy? They are all the action of exercise in warm water. It differs from swimming in that it involves specific exercises that you perform in the pool, under the supervision of your physiotherapist. Your physio will prescribe those exercises for you dependent on your condition, which may involve mobilisation of joints or stretching and strengthening of muscles.
The exercises that you do will utilise the properties of the pool and water to achieve their aims:
Buoyancy in the water is the opposite of gravity on land. The buoyancy pushes your body or body parts up during hydrotherapy, meaning that you are putting less weight through your joints. We can also harness buoyancy and floats to assist you with stretching
When you walk through water you notice there is more resistance than walking on the land. Hydrotherapy takes advantage of this fact to help strengthen your muscles.
The warm temperature of the pool allows your tissues and joints to relax which can relieve pain, whilst also making movement easier.
Turbulence is created in water by other users, yourself or your physiotherapist. Aquatic therapy uses turbulence to challenge your balance and improve your stability.
As you submerse yourself the fluid will exert a pressure on you, which will increase with depth of water. This can be useful to reduce swelling if exercises are prescribed below the surface of the water.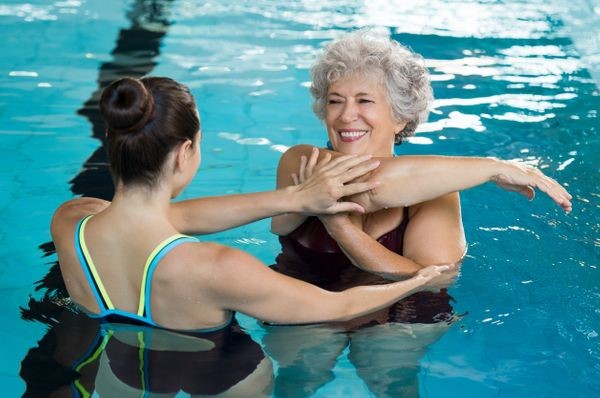 Common conditions that benefit from hydrotherapy
Osteoarthritis or joint pain
Chronic pain
Post-operative rehabilitation or joint replacments
What if I'm afraid of water or can't swim?
Firstly hydrotherapy is not for everyone, so talk to your physiotherapist if you have any concerns about getting in the water. However, you don't have to be able to swim to benefit from exercise in the water and hydrotherapy. Most of the exercises are completed whilst standing in the water, often at the edge where you are able to hold onto a rail. Your safety is important to us and we would never ask you to do something that you felt you weren't able to do.
What should I bring for my hydrotherapy session?
Swimming costume
Towel
Water bottle
Medication that you might need by the side of the pool (e.g. for diabetes/angina)